The Trick-or-Treaters are Coming from Inside the House!
I co-created a Halloween game for kids with my brilliant and funny artist-friend Creedance Kenna.

Comment below and get entered to win a beautiful board on recycled canvas plus a full set of black & white trick or treat game cards. (US only)
Bonus entries for retweeting & commenting.
Sometime in the pandemic past…was it last year? Last week? Five years ago? Back when time started to lose its meaning; when the only pants we could remember involved the word "sweat", and finally, finally all those overripe bananas were brought back from the brink of self-composting, and living their best lives as the unlikely stars of InstaBananaGram.

As the leaves changed from green to variations of red, and our snugly sweaters awoke from their summer hibernation, a rumor swirled through the streets — tangling itself in our masked faces and catching in our sanitized hands — it warned us that Halloween would be canceled. The fact that this was the right thing to do did not make the pill any less bitter.

Trick-or-treating alternatives spread through news and media outlets like a zombie apocalypse, relentlessly creeping into such headlines as, Halloween candy catapults, chutes and ziplines: How some will greet trick-or-treaters in 2020, and Trick-or-treating will be trickier than ever this Halloween, as well as endless blog posts offering up alternative Halloween ideas like a witchy twist to the 12 days of Christmas:
12 Alternatives to Trick or Treating in 2020,
22 Halloween Alternatives to Trick or Treating (I found 11×2 which doubles the fun)
10 Alternative Halloween Ideas for 2021 – How to Have a Happy Corona-ween!
9 Trick or treating alternatives for Halloween 2020
8 Alternatives to Trick or Treating During the COVID-19 Pandemic,
7 Easy Alternatives to Trick or Treating
6 Clever Alternatives to Trick-or-Treating This Year
5 Alternatives to Trick-or-Treating (Celebrate Halloween 2020)
15 Fun Trick or Treating Alternatives for Halloween (witchy math: 5-1 = 4)
25 Alternatives to Trick or Treating 2020 (can you conjure the math that gets us to 3?)
Don't get me wrong, these are all tremendously great ideas, I mean, don't spare me the pumpkin bowling or this pumpkin bowling, or this pumpkin bowling which cleverly uses toilet paper as pins!
Well, Creedance and I were determined to resurrect trick-or-treating as a fun Halloween game using real Halloween candy, of course. And finally, after six ghouling and pun-filled weeks Play Trick-or-Treat — a print and play, Halloween board game — was ALIVE!

Creedance and I consulted our Magic 8 Ball [shake, shake]: Will families enjoy playing Play-Trick-or-Treat? Magic 8 Ball: Reply hazy, try again. Doh! Well, as families bought, printed and played the Halloween game in the safety of their own homes the reviews crept in; which is all to say, don't bet your spiders on the shake of a Magic 8 Ball and also, as the old witches' proverb goes, don't count your spider eggs before they've hatched.
We also learned some fascinating things about how families were using the game. First, adults will miss no opportunity to turn anything into a drinking game. Cheers! Second, families with children for whom traditional trick-or-treating is not always possible, (because of allergies, mobility issues, and in one instance not living in a trick-or-treat-friendly neighborhood) were grateful to have a supplement to or a for trick-or-treating alternative. Third, families played the game long after Halloween until all the candy was gone.
Sticky spiderwebs! Pulling your teeth out wondering what to do with all that leftover Halloween candy is a thing of the past. Welcome to the first (probably) board game where you might be tricked into eating your game piece (yum!), compelled to steal candy from a graveyard, (yikes!) or called upon to cast an "act like a chicken" spell on another player.
Fill a bowl of candy, grab a die, and act, laugh and #TrickOrTreat your way to sweet victory!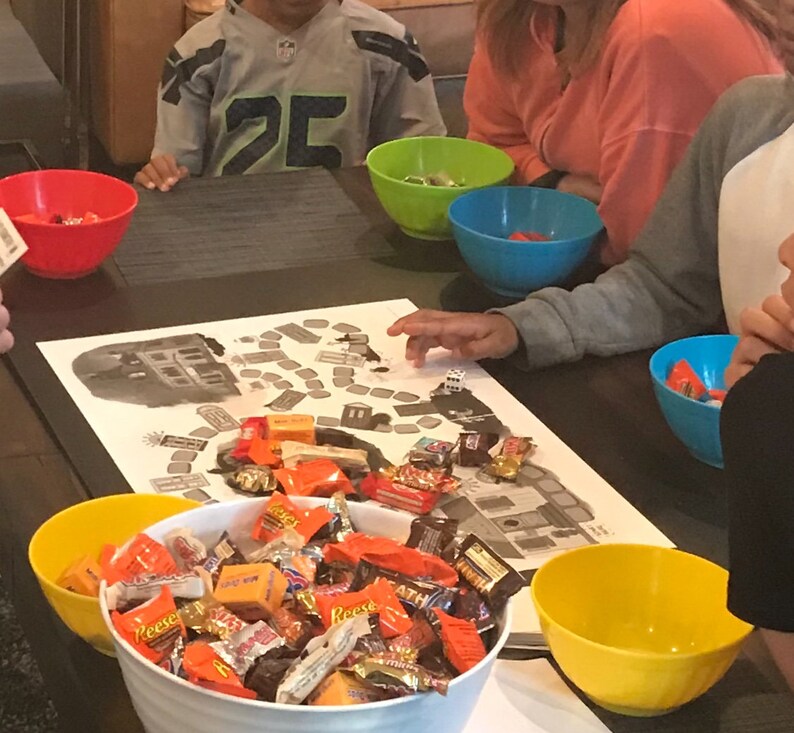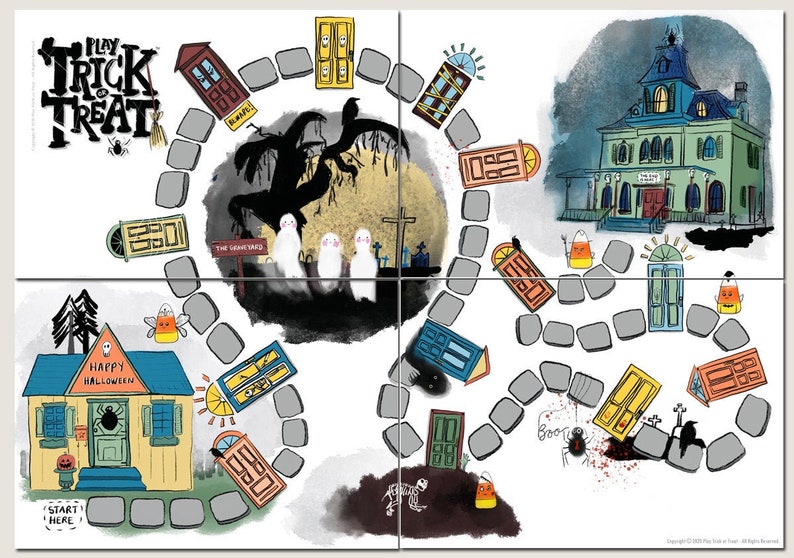 Here's how you can get entered thrice to win:
1 Entry for leaving a comment below.
1 Entry for retweeting or commenting on the post on twitter.
1 bonus entry if your twitter comment/retweet includes a Halloween pun.

Rules & details:
– One winner will receive through he USPS a full set of black & white Play Trick-or-Treat cards, and a full color 17″ x 24″ complete game board printed on recycled canvas (50% REPREVE®; 50% polyester, Weight: 7.1 oz per square yard (240 gsm) – it's lovely!
United States shipping addresses only.
– Winner will be drawn on October 13th, 2021 and game will be shipped the same day – game should arrive within 3-7 days.
– No purchase is necessary. Contests are void where prohibited and are subject to all federal, state and local laws.
– I reserve the right to disqualify or remove inappropriate responses as determined by me because I'm the boss witch.

Good luck! #HappyHalloween